Distance Learning for Educators
Everglades Activities for Families
Everglades Haiku Worksheet and Activity
---
Looking for an Everglades activity to share with parents to do with the family at home? Share with them this Everglades Haiku Worksheet where students can create their own Everglades haiku. You can even take it a step further by sharing a photo that corresponds with your haiku! Everglades Haiku Worksheet Once your students and families have written their haikus, we encourage you to share 1-2 haikus in the Everglades Literacy Facebook group! If you or parents are posting on your personal accounts, please use the hashtag #EvergladesLiteracy and tag The Everglades Foundation social media handles: Facebook: @evergladesfoundation Twitter: @evergfoundation Instagram: @evergladesfoundation
---
Who Lives in the Everglades- Coloring Book by Mac and Hannah Stone
---
Click on the image to download!
---
If I Had a Wish For Water- Read Aloud and Resources
---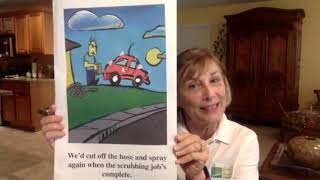 Join us as Susan Toth, the Everglades Literacy Program Assistant and the author of "If I Had a Wish for Water" reads us her book about conserving water. The water that we use today is the same water that has always been on Earth. The water is recycled over and over in different forms. The rain that showers on us, once showered the dinosaurs, George Washington, and Albert Einstein, etc. Water is very important to the health of the Everglades, and the health of the Everglades is very important to us! Water conservation is something that everyone can help with. Saving water in our daily use will help keep the water available for other animals and plants in the future. Download many uses for water worksheet: Here Download Water For Us All T-Chart: Here
---
Who's in the Habitat?
---
Take a look at this picture.
Find all the living things and how they are using water in the Everglades.
---
Picture It!
---
Notice, think, and wonder about the Everglades using these "Picture It! worksheets. Then go outside and take a picture of a plant, animal, or habitat in your community, and make your own Picture It! activity.
---
Everglades Animals Food Sources Matching Game
---
Who's hungry? Discover Everglades animals' food sources by playing this fun matching game. Download matching game
---
---
Storytime with Ms. Colleen
Welcome to Storytime with Ms. Colleen!
---